Introducing High School Fellow, Simi Serfati: "…the key attribute of being a Zionist is the courage to outwardly stand up and help Israel in any way you can."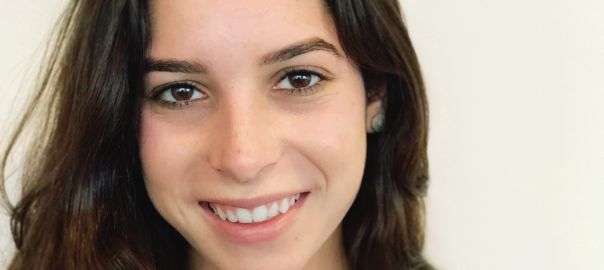 Hi, my name is Simi Serfati and I am greatly pleased to have been selected as a Zionist Organization of America high school fellow this year. To me, Zionism is one's desire to constantly advocate for Israel and to show the unique, amazing, and special attributes of our homeland. To be a Zionist is to carry one's love for Israel openly, to speak positively, and to be knowledgeable in a variety of aspects pertaining to Israel. Moreover, I think the key attribute of being a Zionist is the courage to outwardly stand up and help Israel in any way you can. Zionists are on the front line of strengthening Israel's name at home and abroad, promoting Israeli innovations and businesses, and as serving as the ambassadors of the Jewish state wherever we go.
The ZOA fellowship program is important to me because I feel it will enhance my understanding and insight into Israel, which I am already very passionate about. Critically, it will also give me the tools to share that passion with others. Through a better understanding of the political and economic situation of Israel, I hope to become an even stronger activist for the Jewish State. With ZOA's help, I look forward to preparing meaningful and interactive lessons for classes in my school, as well as bring in influential speakers to our campus. As I will soon be off to college, I hope to gain the necessary background and tools needed to defend Israel amongst my peers. I dream of demonstrating, in an educational, respectful, and relevant way, why others should feel that special feeling I feel whenever I think or hear about our country.
Currently, as a member of AIPAC, I spend about 40 minutes during lunch on Wednesdays learning about the conflicts within the Middle East, specifically pertaining to Israel. I have actively kept myself updated about the situation in hopes of successfully defending myself, my religion, and my Homeland.
After building upon my own knowledge, I hope strongly to ZOA's goals of promoting Israel on campus. On behalf of the ZOA fellowship, I want to run an event filled with techniques, information, and tools necessary to advocate for Israel and fight against anti-Semitism and anti-Israel attitudes on college campuses. I have recently been faced with anti-Semitism in a program I participated in at the University of Pennsylvania where I was told that Israelis are killing Palestinian civilians and that Palestinian homes are being taken by the Jews. I realized that defending myself was a lot harder than I had expected it to be. For this reason, I want to create an event where a speaker comes and begins to give the students at my school tips on how to practically advocate for Israel, mixing the truth I know with the effective tools to express it. Then, the audience will be split into small groups, where they will be placed in likely situations they will face on campus.. Each group will have to respond to each scenario accordingly, with the right facts and best the techniques given by the speaker. By practicing scenarios like these, I think we will feel a lot more confident going into college knowing how to stand up for Israel and how to respond to anti- Semitism.
Throughout my life, I have always been eager to learn and to teach. I believe that concepts that I have learned are not meant to be kept to myself. Rather, I have constantly tried to help my peers and teach those younger than me. In terms of explaining Israel, it is not just about teaching the pure facts. It is about instilling a love of learning and being a part of our people. As part of this fellowship, I will be determined and will constantly be seeking to make the best events, activities, and lessons in order to share with others my love for Israel.
I have a tough schedule to balance, but the ZOA fellowship is a priority for me. As a senior, with applications and the stresses of college life looming, I have decided that Israel advocacy is something in which I must invest my time. It's for me, and it's for our people.